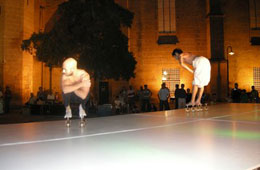 International Spring Concerts: The spring concerts which are carried out by The Association of Northern Cyprus Musical Friends are popular among classical music lovers.
The concerts are organized especially in April and May. We strongly recommend you to catch up with these concerts that take place at Bellapais Monastery.

Güzelyurt Orange Festival: Güzelyurt Orange Festival is carried out by Güzelyurt Municipality and they have been organizing the festival from 1977. Each year, the festival is organized in June-July. As the name suggests, you would have chance to taste the delicious Cyprus orange which is popular all around the world, also you can attend to various concerts, competitions and artistic activities throughout the festival time.
International Bellapais Music Festival: This festival is one of the most important festivals of Northern Cyprus. It meets different musicians and singers from all around the world. The festival is organized in May and June.
International Music Festival of Northern Cyprus: The festival is organized in September and November. It takes place at Bellapais Manastry, Salamis Antique Theatre and Kyrenia Castle and different kinds of resitals take place, such as senfonic-rock, choir, chamber orchestra, Flamenco, Romanian Gypsy Music and Tango.
International Famagusta Festival: International Famagusta Festival is known as one of the best festivals of Mediterranean because it hosted world groups such as Asward, Los Paraguayos, Berlin Arts Group. The festival is organized in June and July each year.