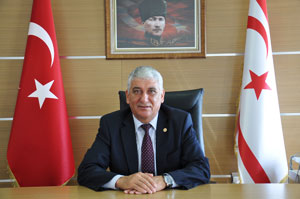 He was born in Binatlı on October 29, 1957. After completing secondary school at Güzelyurt, he graduated from Ankara 19 May Youth and Sports Academy Physical Education and Sports Department with a degree. From 1992 to 1996, he has worked as Physical Educator at secondary schools of Güzelyurt. At the same time, he was the president of The Association of Cyprus Football Coaches. In 1996, he served as Deputy Principal of Güzelyurt Kurtuluş Lycee. In 1996, he was the president of TRNC Amateur Atletic Federation. Within the years of 1999-2005, he was the member of LAU Board of Trustees.

He serves as a Municipality Mayor of Güzelyurt within the years of 1998-2002, 2002-2006, 2006-2010, 2010-2014. After the local elections that were made on June, 2014, he was elected as the Mayor of Güzelyurt Municipality. He is married and has two children.
2014 will be the investment year of Güzelyurt, Bostancı, Yayla, Güneşköy, Mevlevi, Kalkanlı, Akçay, Serhatköy, Şahinler, Gayretköy, Zümrütköy and Yuvacık.
We will actualize the municipality's peak asphalt project within the year of 2014. The required studies will be done in order to create new living areas at our city within the year of 2014.
We will continue to work on the sewerage system in order to incorporate most of the omitted areas with the contributions of the Republic of Turkey and our own resources.
Festival Park will be witnessing the biggest investment of it's history and it will be renewed entirely. We will continue to increase the quality of the tap water with our own investment throughout the year.
With our great organizations for festivals and special days, we will continue to take attention of thousands of people and we will be shown as an example to other establishments of our country.
We will work on to add new regions to our storm drainage network.
We will provide various city furnishings all around the city in order to reinforce the city identity of our town.
In order to improve the service quality of citrus industry, we will construct a modern building to central scale complex in which the custom transactions will take place.
We will construct branch premises to the villages in need, with the aim of increasing the service quality.
We are working on the construction of bridge on the stream bed in order to create new living areas and those arrangements will be finished in 2014, so within the year, open market will be putting in service for the community.
We are aiming to close down the Kalkanlı landfill in order to carry out the wastes to Güngör with special vehicles by constructing a transfer station and we are working hard to actualize our project with the confirmation of central government.
Our region is surrounded by the sea, however we haven't got any seasides. Therefore, we realized that we should actualize our Yayla Project in order to meet with the sea and we will work on our project intensively.
Best Regards