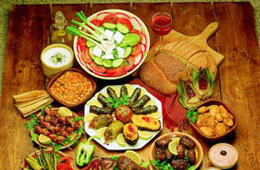 Cyprus cuisine has oriental features because it is the combination of both eastern and western tastes.
The main materials of Cyprus cuisine are; meat, seafood, vegetables and fruits. At dinners, before the main dish, people serve various types of appetizers.
Zivania, Rakı, Brandy and wine are the most prefable alcoholic drinks in Cyprus. After the main dish, people serve fruit sweet which is called 'macun' and they drink Turkish coffee. At breakfasts, they prefer fruits, as well as yoghurt and honey.