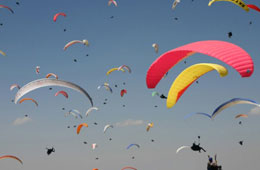 Paragliding: One of the most prefable sports in North Cyprus is paragliding. Adrenalin junkies prefer this sport branch within some periods of the year and they enjoy both paragliding and view photography at the same time.

Go-Cart: There are some places that you can race with mini race cars. Within these areas which have different types of tracks, you can enjoy with your friends by forming groups and race. Moreover, you can take part in the annual go-cart championships.
Zet Carting No: +90 533 866 61 73
Cemsa Sporting Centre No: +90 392 223 6235
Trecking: You can attend annual nature walks which take place all around the island and you can discover the beauty of orchids within the charming nature.
Scuba Diving: Under the sea, you will encounter with various kinds of fishes and turtles. You can see octobus, moray, colorful sponges and corals under the water while you are discovering the tressures of anthique ages.
Paintball: Nowadays, it is very popular in Cyprus, so people enjoy the nature of the island while they are playin paintball.
Sky Board: In North Cyprus, you can find 3 different types of sky boarding. Banana is one of them, in which 6 people take places on a plastic boat which is look like a banana and draw away by a speed boat. Another one is sky board, in which you wear a special life jacket and boards, and draw by a speed boat on the sea level. Other ones are flying boat and jet-ski.
Riding: Tunaç Horse Club is on of the most popular horse clubs of Cyprus which serves at Karaoğlanoğlu, Kyrenia. It has 42 different types of horses and educates people from all countries by giving them certificates of horse riding.
No: +90 392 822 23 92 – 90 392 822 2868