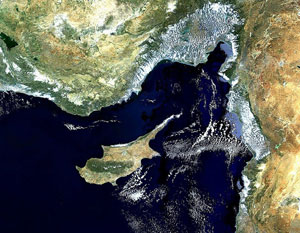 Revered as the unspoiled jewel of the Mediterranean, Northern Cyprus has always exuded a lazy charm that draws the visitor to its shores without even trying. With its miles of golden sands on the endless beaches of Karpaz, the generosity of the Turkish Cypriot people and the abundant selection of fresh foods, this part of the island is a haven for those who want to enjoy a serene yet better, quality of life.
A typical Mediterranean climate with long, hot summers and relatively cool, short winters, the island can boast over 300 days of sunshine a year. The sea temperature is rarely below 16oC and rises to 28- 30oC during the summer months.
All banking facilities are catered for with some banks operating their own branches in London while others have arrangements with major UK banks. A deposit account can be opened with ease in Sterling or any other major currency including US Dollar or Euros subject to the banks' terms and conditions and funds can be drawn in any currency as well as the local Turkish Lira.
Foreign investment is actively encouraged by the government and has led to numerous incentives to help foreign nationals. Some facilities available include exemptions on import duties, income tax and corporation tax up to 10 years in some cases. Tourism in all forms is actively rewarded by the government and in many cases, grants have been made available to assist in set-up costs.
The islands' ownership has been passed on through the centuries with the Assyrian, Egyptian, Persian and Roman Empires all affecting the overall cultural status of the island. Although undefined by religion, 98% of the population is of the Muslim faith.
North Cyprus
Established on 15th of November, 1983
Capital: Nicosia
Surface Area: 3.355 km2
Population: 264.169
Actual Name: Turkish Republic of Northern Cyprus (T.R.N.C)
Geographical Region
Cyprus was separated as north and south in 1974. Nowadays, Turkish Cypriots live on the north, whereas Greek Cypriots live on the south side of the island. The countries are separated by the "Green Line" border which is located in Nicosia and Nicosia is the capital city of both countries.
The Turkish Republic of Northern Cyprus is approximately 160 km. long and the widest region of TRNC is 65 km. The total surface are is 3.550 km. (1,357 square mile) and it covers %36 of the total island. North Cyprus was divided into five districts. (Nicosia, Famagusta, Kyrenia, Güzelyurt and İskele). It has 6 basic residential area : Nicosia, Kyrenia, Famagusta, Güzelyurt, Lefke and İskele. Nicosia is the capital city of the Turkish Republic of Northern Cyprus.
Climate
A typical Mediterranean climate with long, hot summers (from June to September) and relatively cool, short winters (from November to March). Spring and Autumn winters are warm and lovely. Average temperature of a year is 20°C (68 F). In summer, the average temperature is above 30°C (90 F), and in winter it is approximately 10°C (50 F).
Population
The population of TRNC is approximately 200.000 according to the counting on 1997. %55 of the population live in the cities.
Flora and Fauna
The nature of Cyprus wakes up at November, after the first rains of the year. Everywhere is covered by a green flora. Red tulips, yellow daisies, cyclamines ornaments all the regions. The views are worthseeing.
Passport and Visa
People can travel to North Cyprus with any passport. You can get maximum 3 months visa at the entrance. People can consult to TRNC immigration office in order to enlarge the duration. Children under 16 could enter the country with their parents' passports.
Vaccine
It is not a requirement.
Custom
The government doesn't ask for custom of the tourists' personal belongings and foodfstuff. Tourists can bring tobacco and cigar equivalent to 400 cigarettes and a bottle of alcoholic drink and a bottle of parfum. It is forbidden to take out the archeological and historical artifacts of Northern Cyprus.
Language
The official language of the Turkish Republic of Northern Cyprus is Turkish. However, English is very widely used both by the Government and by the private sector. Communications with any Government Department may be made in English and is perfectly acceptable.
Accomodation
People can find hotels well into 5 stars as well as Hotel-apartments, holiday villages, camping areas and hostels suitable for all budgets and pleasures. Most of the touristic facilities are settled in Kyrenia and Famagusta. However, Karpaz will be developed within few years. Moreover, people can find rental villas in specific Cyprus villages.
Coastline
On May and October, the temperature of North Cyprus's coastline is approximately 24C. The coastlines serve restaurant, cafe, bar facilities as well as umbrella and other needs. Moreover, water sports are available at most of the coastlines.
Bazaar and Shopping
Within Northern Cyprus bazaars, people can find products from Europe, Turkey and Cyprus. All products are sold with TL. Salespeople's hospitality takes people attention and encourage them to shop. You can find products from copper, silver and bronze at souvenir shops. Gold jewelleries, leather products and fabrics are sold with lowest prices. The prices are fixed and salespeople do not accept bargaining. Most of the stores are open from 8:00-13:00 and 15:30-20:00.
Be careful! It is forbidden to take out the historical artifacts out of the country.
Night Life
North Cyprus is an ideal holiday alternative for the ones who prefer quite and relax places. Most of the clubs, bars and night clubs are settled in the towns with coastlines. Chinese, French, Indian and Italian restaurants can be found in the country. Throughout summer, you can enjoy Kyrenia with it's romantic restaurants and bars which are placed on the coastline. Many restaurants offer live music and entertainments on summer nights. Moreover, big hotels' casinos are serving until the morning in all seasons.
Museums
Throughout the summer term (May-October), the opening hours of museums are changeable. For this reason, we recommend you to contact with Museums and Ancient Buildings Office (00- 90- 392-227 2916). In winter, opening hours of museums are as given: 9:00-13:00 and 14:00-16:45. Museums are closed at public holidays.
Emergency Telephones (Famagusta)
Forest Fire 177
Police Emergency Line 155
Emergency Service 112
Hospital 366 53 28
Fire 199
Electricity 366 5514
Traffic and Public Transportation
The traffic follows from the left. Traffic labels are international. The roads are safe. The cars that enter the island should get the insurance of North Cyprus. In most cases, cars could not exceed 100km/hr. Seat belts are compulsory.
Taxi prices are acceptable. There are some taxis which work as a collective taxi. Bus services are available between cities, but the departure times are changeable. After 17:00 and in the weekends, the services are lesser than the week time.
Rental Cars
Rental cars' labels are red. People can rent those cars from some hotels and from rental car establishments. The prices are acceptable. International driving license is enough to rent a car.
Telecommunications
People can communicate through telephone, telex, fax and internet.
In order to call Northern Cyprus from abroad , you should dial (00 90 392) and from Turkey you should dial (0 392). Then dial 7 digits public telephone number. (City codes: Kyrenia 81, Famagusta 36, Nicosia 22). You can call England from North Cyprus with 00 44 (and the number) and Turkey by dialing 0 312- …….
Unit of Currency
The local currency of North Cyprus is Turkish Lira (TL). Banks, hotels and exchange offices accept English Pound, ABD Dollar and Deutsche Mark. Credit cards are accepted by most of the hotels, restaurants and stores and people can withdraw money from ATM's.
Working Hours
Governmental Agencies
Summer (May-October)
Monday: 07:30-14:00, 15:30-18:00
Tuesday-Friday: 07:30-14:00
Winter (October-May)
Monday-Friday: 08:00-13:00, 14:00-17:00
Banks
Summer: 8:00-12:00
Winter: 8:00-12:00 and 14:00-16:00
Electricity
Power is supplied at 240 volts and wall fittings are generally the U.K. three-pin type.
Transportation
Airways: From England and other European countries, there are frequent charter services to Northern Cyprus. In summer, Ercan Airport has more than 60 trips in a week. They have 15 trips to Stanstead, Gatwick and Heathrow Airports per week. Most of the flights, arrives at night to North Cyprus. There aren't any direct trips to Northern Cyprus, except from Turkey. Other flights are transferred via Turkey.
Seaway: Throughout the year, there are ferry services from Mersin(Turkey) to Famagusta, 3 times a week. Moreover, ferry services from Taşucu(Turkey) to Kyrenia are available throughout the year. We strongly recommend you to reserve your places before your trip.
ERCAN AIRPORT
Tel: +90 392 231 4806 (reception)
TICKETING AND RESERVATIONS MAIN OFFICES
Izmir Turkey Ticketing and reservation office
Sht. Nevrez Bulv. 13/A Alsancak
Tel : Strl:+90 232 464 9095, +90 232 421 4472, +90 232 4227146
Fax :+90 232 4215425
Antalya Turkey Ticketing and reservation office
30 Agustos (Isiklar) Cad. No 5/B
Tel :+90 242 248 9957,+90 242 248 6195
Fax :+90 242 248 9816

Londra Ingiltere Ticketing and reservation office
11-12 Pall Mall, London SW1Y 5LU
Tel:+44 207 930 4851,
Fax:+44 207 930 1046 / 88 Green Lanes Newigton Green No:169 9EJ
Tel:+44 207 241 5523 lines Fax: +44 207-241 5541 MANCHESTER-Passanger services-Manchetser Airport Tel:+44 161-498 8577
Frankfurt Germany Ticketing and reservation office
Frankfurt Marmara, Kaiserstrasse 72, 60329 Frankfurt
Tel : +49 069 242 64036
Fax : +49 069 231 686
Istanbul (Laleli) Turkey Ticketing and reservation office
Eminönü Kemal Pasa Mah. Ordu Cad. Laleli Vakif Pasaji Laleli
Tel:+90 212 513 9853 +90 513 9445
Fax:+90 212 513 9525
Lefkosa North Cyprus Ticketing and reservation office
Bedreddin Demirel Cad. Genel Müdürlük-Yenisehir /Lefkosa
Tel: +90 392 22 71706
Fax: +90 392 22 88208
Girne North Cyprus Ticketing and reservation office
Kordonboyu
Tel : +90 392 81 52513 / 14
Fax : +90 392 81 53908
Gazi Magusa North Cyprus Ticketing and reservation office
50 Ilker Karter Caddesi,
Tel :+90 392 36 67799
Fax :+90 392 36 67899
Istanbul (Mecidiyeköy) Turkey Ticketing and reservation office
Büyükdere Cad. 56/B, Mecidiyeköy
Tel :+90 212 288 9182
Fax :+90 0212 274 5981
Istanbul (Feneryolu) Turkey Ticketing and reservation office
Bagdat Caddesi, Feneryolu Mevkii Emre Apartmani no:153 Kat 1 Daire:7 Kadiköy
Tel:+90 216 449 4738/39- +90 216 414 4665
Fax:+90 216 414 1195
Ankara Turkey Ticketing and reservation office
Selanik Cad. 17/1, Kizilay
Tel :+90 312 418 0425 / 445
Fax :+90 312 418 7817
Adana Turkey
Atatürk Cad. 5
Tel :+90 322 363 1541, +90 322 351880
Fax :+90 322 3631409

TURKISH AIRLINES
24 Hour Reservation: +90 212 444 0849
Ankara: +90 312 428 0200
London: +44 207 766 9300
Nicosia: +90 392 227 1061
Email: customer@thy.com

ATLAS JET
Istanbul: +90 212 315 1800
Antalya: +90 242 243 3040
Bodrum: +90 252 367 2166
Izmir: +90 232 425 3387
Adana: +90 322 458 7612
Nicosia: +90 392 815 6747

PEGASUS AIRLINES
Adana:+90 322 433 27 72
Ankara:+90 312 398 10 87
Antalya:+90 242 330 41 93 - 330 31 93
Bodrum:+90 252 523 02 60
Dalaman:+90 252 792 50 31
Ercan:+90 392 231 42 88
Istanbul:+90 216 588 01 60 - 61
Izmir:+90 232 274 60 35
Public Holidays
1 January - New Year's Day
23 April - Children's Day
1 May - Labour Day
19 May - Youth and Sports Day
20 July - Peace and Freedom Day
30 August - Victory Day
29 October - Turkish Republic Day
15 November - Northern Cyprus Republic Day
Customs and Traditions
People in Cyprus, reflect their customs and traditions at special days and celebrations. Some of them are; wedding ceremonies, sunnah parties, birthdays, first day of school, etc… Hospitality is one of the unique special characteristics of Turkish Cypriots. They serve to elderly first, and then to other people. Cypriots serve Turkish Coffee at first, and then they serve other treats. They serve sweets made from various fruits.
Folk Dance
Turkish Cypriots use folk dancing within their many entertainments such as weddings. These dances are, Greetings, Handerchief, Zeibek, Women Plays, Dramatize Games and Butcher Dances. Greetings are played separately by women and men. Women's rhythm is slower than men's.
Traditional Handcrafts
Colored cotton kerchief; it was used widely in the past year with different colors and ornaments. The ones that are used in Cyprus are square shaped. Nowadays, kerchief is used as scarf.
Lefkara; it is one of the most important handcrafts of Northern Cyprus. It is called Lefkara, because it was found in that village. It has 2 types. One is applied on fabric and the other one is applied with a needle. People use pillow while making it. Nowadays, people produce them for commercial reasons.
Botanical Knitting: People use botanical materials to produce various products. Especially in Mesarya and Karpasia, botanical knitting is very popular.
Cypriot Cuisine
Cypriot cuisine has been influenced by different cultures throughout history. Each dish has a unique taste and is well presented reflecting the Cypriot character. The Turkish-Cypriot cuisine owes its heritage to a mixture of Mediterranean, Southern European and Middle Eastern influences. Local dishes are delicious, particularly the meze. This is a specialty of Cyprus and consists of a large number of cold and hot hors doeuvres such as different salads, meats, vegetable, and fish dishes. It is taken either as an appetizer or a main course.
Cypriot cuisine has been influenced by different cultures throuhout history. Therefore there isn t any dishes, which we would call Cypriot only. However with little variations from their originals Cypriots have developed quite tasty dishes. Each dish has a peculiar taste and cooking and presentation reflects the character of the people of Cyprus. Molhiya Arab in origin, has developed completely, appealing to Cypriot tasta both in preparation, taste and presentation. Some dishes even vary from region to region in name, preparation and taste. North Cyprus is fascinating and appealing to people who eat well and enjoy eating. A great variety of vegetable dishes, grills, pastry, fish, soups, kebabs, lahmacun, pides are to name but a few. A big list of mezes, sweets, cakes, eaten either as starters or as afters can be named. In addition to local cuisine Chinese, Italian, French and Indian foods are well represented in various restaurants. Molhiya, Arab in origin is a well developed dish appealing to Turkish Cypriot taste, preparation and presentation, since there were Arabs who passed it to Turks.
Soups
• Lentil soap
• Tarhana soap
• Rice soap
• Noodle soap
• Vegetable soap
• Houmous soap
• Trotter soap
• Chicken soap
• Lentil soap with noodles
Appetizers
• Houmous
• Cucumber youghurt
• Tahini
• Pickles
• Potatoe salad
• Samarella
• Cabbage and yoghurt salad
• Fried halloumi
• Olives
• Octobus
• Calamari
• Gabbar
• Tounge
• Brain
• Pastrami
• Rices
• Bulgur pilaf
• Hash browns
Kebabs
• Şeftali kebab
• Oven kebab
• Shish kebab
• Meatballs

Main Dishes
• Musakka
• Molehia
• Okra
• Liar Stuffing
• Meat Stuffing
• Chitterlings
• Leek
• White beans
• Green beans
• Dasheen
• Broccoli
• Spinach
• Pastry and minced pies
• Tatar Pastry
• Pirohu
• Curd Pastry
• Meat Pastry
• Spinach Pastry
• Cabbage Pastry
• Mushroom Pastry
• Olive Pastry
• Helloumi Pastry
• Bidda Bread
• Shortbread
• Desserts
• Crisp flaky pastry
• Samsı
• Shredded wheat in syrup
• Crumpets in thich syrup
• Şamişi
• Yeast fritters in thick syrup
• Bişi
• Sausage
• Grape syrup dessert
• Paluze
• Golifa
• Semolina dessert
• Rice pudding with noodles
• Jams and composte
• Walnut jam
• Bitter orange jam
• Bergamot jam
• Quince jam
• Date jam
• Fig jam
• Watermelon jam
• Pumpkin jam
• Mayflower jam
• Strawberry jam
• Orange jam
• Plum jam
• Grape jam
• Peach composte
• Apple composte
• Pear composte
• Harup syrup

Drinks
• Rose water
• Almond water
• Zivania (made from grapes)
• Wine
• Lemonade
• Yoghurt drink
• Raki
• Cyprus coniac
• Beer